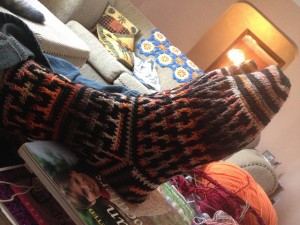 This is a revised version of something I wrote several years ago. In going through my documents, on my phone and on my laptop, I came across this. Enjoy!!
Projects made with lightweight yarn are in style again. Several years ago I wondered if this didn't have something to do with the economy and I still believe that this is part of it. A 100g skein of lace weight yarn contains 600m of fibre while a worsted weight skein of the same weight will only contain about 180m. During WWII, when wool production was directed to the military forces, mills made their product available to the public by promoting patterns containing fingering and lace weight yarns for their economy. This is true again today, albeit for different reasons.
Another reason that light weight yarns are back in style is simple aesthetic. Small stitches flatter a wider variety of bodies than big stitches. There are a huge amount of patterns out there that use worsted and bulky weight yarns to cater to crafters with a need for instant gratification, but they really don't look good on a large cross section of people in Western society. Big bodies in big yarn look like big bodies wearing fat suits. Since I am the owner of a big body (not anymore - I am the owner of a rapidly shrinking body!!) I can attest to this. The downside to garments made from light weight yarns is that they take a lot longer to create. Things don't move as quickly when your gauge is 9sts/2cm as opposesd to 4sts/2cm. 
This is where socks come in. They're fabulous projects made at a small gauge that won't take forever. You can start and finish a basic pair of crochet socks in one day, working in between other tasks. Here are some other reasons why you should make socks:
Socks give us the chance to sample expensive, foo-foo designer yarns handspun by artisans located in remote mountainous regions that we may never be fortunate enough to visit. I may never have the budget to make a $300 sweater but I can probably find $30 in my budget to make a pair of socks.
Socks also give us the chance to sample new stitch patterns or new techniques without investing huge amounts of time. We could work Tunisian, cables, bobbles, and mosaics all in one sock if we wanted, and it wouldn't take us a year to finish.
Crochet also works both sides of the brain and I was told several years ago by my son (who knew everything then and still knows it all now) that if I didn't use it, I would lose it. Activities that exercise both halves of the brain keep us in tip top cranial form. I am told that other such activities do exist, but I haven't been able to put my crochet hooks down long enough to find out what those other activities might be.
When you are stressed out and on your last nerve, crochet can be relaxing and therapeutic. Those of you trying out something new may not agree - haha - but when I need to relax, I go to the only room with a locking door (yes, the bathroom....don't judge - every mother has done it) to drown out WWIII with the overhead fan and sit on the edge of the tub, happily crocheting away the urge to strangle my family. It's better for you than drinking or emotional eating, and you get to have nifty little dishrags, socks (or whatever it is that you can make on autopilot) when you are finished.
The fibre arts give me a sense of continuity and tradition in a monocultured world where we are often so mobile that we never put down roots. While I am sure that my grandmother and other long gone female ancestors probably never crocheted a vibrator cozy for their girlfriend's stagette party, I still feel connected to my heritage whenever I pick up my little hooks and start winding yarn around my fingers. In case my mother is reading this, I have never made a vibrator cozy. I was only kidding. Really, I was.
You can sample the strangest, craziest yarns in a sock and no one will blink an eye. Socks are just that cool now. You may never be able to wear a pink, purple, and green fluffy mohair sweater to work because it's loudness will cause instant blindness, but you can wear socks like that and everyone will think they're just the cutest! things! ever!
Finally, socks will never, ever make your ass look big. You can make them with any yarn, in any stitch pattern, any old way you want, and they will never, never, never make you look like you regularly eat panfuls of brownies by yourself. I can not honestly say that about some of the sweaters I've made.